Spicy Pea Vegetable Dish with Babylicious potatoes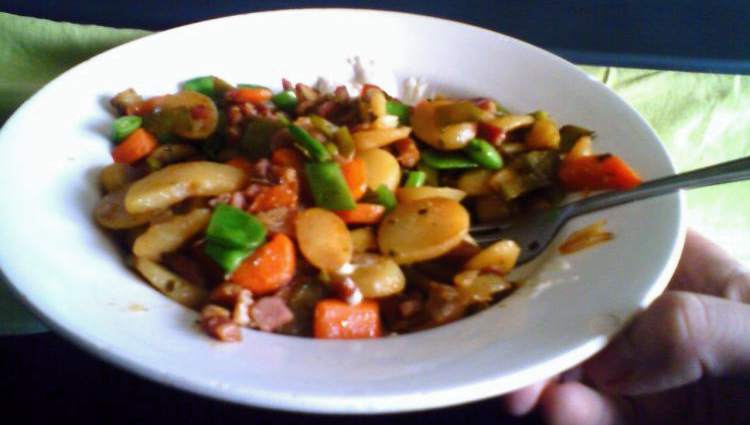 A plate of sliced almond potatoes, mixed vegetables, sliced smoked bacon and garlic.
This recipe serves 2-3 persons and yields a very colourful dish full of delicious vegetables and should leave you and your guests satisfied for hours.
Utilities
Fairly large pan with a lid, preferably one that allows dripping of fluids over time.
A wok / stir-frying pan
Ingredients
Krieltjes (almond potatoes, asparagus potatoes or also called baby new potatoes) (700grams)
Sliced Smoked Bacon (lard roes?). (200 to 300 grams)
Peas or Sugar Peas
Winter carrot (2 medium sized ones)
mexican vegetable mix (consisting of sweet corn, small diced haricot vert ("green string bean"), small diced paprika, white cabbage, leek and more that I have to lookup) (although I didn't use this mix this time...)
3 or 4 fairly sized onions
garlic (1 or 2 toes/cloves)
1 paprika (preferably red)
chives
dried paprika powder (extra spicy preferably)
thyme
parsley
pepper
salt
sugar
onion powder
white wine (optional)
Preparations
You can soak the peas in some water with salt and sugar, though this is not really necessary. Slice the carrots, peas, onions and garlic. Chop the chives, parsley and thyme. Dice the paprika. Now spice up the potatoes with the dried paprika powder, onion powder, chives, pepper and salt.
Cooking it
Heat up the pan with some olive or rape oil. Preferably a pan that allows dripping of fluids over time, such as some saute pans. Make sure it is preheated on low fire for long enough with the lid on. Add the spiced potatoes and stir fry for a while on high fire till they are starting to get golden/brown. Add the peas and carrot and turn the fire low and put the lid on the pan. If you have a pan that allows you to add (white) wine via the lid (so it will drip in over time), you can optionally do so now (or add some before closing the lid). After 5 to 10 minutes on low fire, turn the heat back up and add half of your sliced onions and half of your sliced garlic, stir fry the onions well and put the lid back on and the fire back on low. Optionally you can slowly cook the onions with garlic in a separate pan and add them later.
Properly heat up the wok with some oil and stir fry the remaining onions, garlic, bacon / lard roes, paprika and optionally the mexican vegetable mix. Stir often and keep the heat on.
Once you think the vegetables are warm enough, add the contents of both pans together. Mix well, add the thyme, parsley and chives.
Presentation
Try to distribute it over the plate in a way you get a nice colourful display of the bright veggies, the golden brown potatoes and the pink-brownish bacon. Serve with a cold glass of beer or ale.
---
Closing Words
I hope you enjoyed following this guide and I would like to hear your ideas or see your endresults of this recipe.
---