FiXato

's

Salmon, Lettuce, Cheese, Tomato Sandwich

A recipe for a juicy sandwich with salty salmon, crispy lettuce, refreshing tomato and creamy cheese.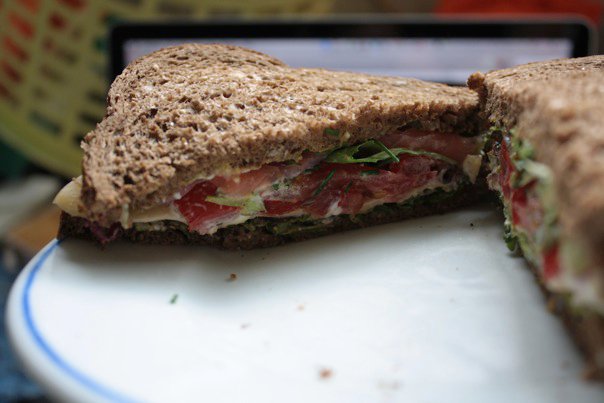 A delicious smoked salmon sandwich with lettuce, cheese, tomato and condiments.
Total Time: 10 minutes
Yield: 1 sandwich

Ingredients
2 slices of (brown) bread
lettuce mix
(young) cheese
1 tomato
2 to 3 chives
smoked salmon filet
a dab of mayonnaise
mustard (preferably smooth/fine mustard with some whole mustard seeds in it, such as the Limburgse Mosterd; maybe also a little bit of very sharp English Mustard (such as Colman's))
Preparations
Chop some chives. Slice some smoked salmon. Dice or slice a tomato. Wash the lettuce. Lightly toast the bread (using a toaster, or just briefly in a thin pan without butter).
Combining it
From bottom to top: slice of toasted bread, mustard, cheese, salmon, tomatoes, lettuce, mayonnaise, chives (and maybe some mustard again), bread. Though order of ingredients is something that's often up for debate. :P
Presentation
Slice in triangles and serve with a glass of milk. :D
---
Closing Words
I hope you enjoyed following this guide and I would like to hear your ideas or see your endresults of this recipe.
---